Youtube Subscribers
Highway to Heaven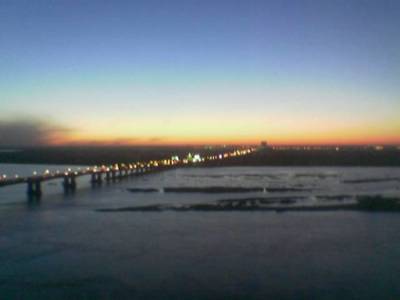 Photo: Songhua Bridge, Harbin

Don't you feel sometimes that we are on a perennial journey? Do you know that in our lifetime we will spend at least 6 years of our lives just traveling? Nasa highway ka. Traffic. Late ka na sa appointment mo. Ano ang gagagwin mo? (You're on the highway. Traffic is bad and you're about to be late for an appointment. What are you going to do?) If you're like me, you will look for an alternative route. A short cut! Dito sa Manila malaking tulong kung alam mo ang mga pasikot-sikot ng mga kalye. (Here in Manila it pays to be familiar with the side streets.) If one road is congested, you can always another way to reach your destination. Or you can try another means of getting there. Traffic ba sa Edsa? Mag-MRT ka! (Is traffic bad in Edsa? Take the MRT then.)
We can also compare our spiritual lives to a journey. All of us, one way or the other, are seeking fulfillment and meaning in life. Ano nga ba ang ibig sabihin ng buhay? Bakit ba ako pinanganak? Ano ang misyon ko sa mundo? (What is the meaning of life? Why was I born? What is my mission in life?) There's only person in this world who can answer all our existential questions—God, the One who created us all.
Throughout history, man has devised ways to get to God. Some have tried religion. Others study various kinds of philosophies. To get on God's good side, people have gotten into all kinds of rituals. Yung iba namamanata pa (Some people even do penance). They punish their bodies and deprive themselves of certain pleasures to win God's favor. To get God to listen to their petitions.
Fact is there is only one way to God. And the ticket to this highway cannot be earned by performing any ritual or good work. Isa lang ang daan patungo sa Diyos. At ito ay hindi madadaam sa ritwal o anumang klase ng pagsusumikap. That Way is a person— He is Jesus Christ. Jesus said: "I am the Way, the Truth and the Life. No one comes to the Father except through Me. Ako ang Daan, Katotohanan at Buhay. Walang makakapunta sa Diyos Ama kundi sa pamamagitan ko." (John 14:6). No other man in history has had the audacity to make such claims.
Jesus is the only way because He alone paid for our sins on the cross to reconcile us to God. Jesus is the only way to God. Not religion, not any saint, not even Mother Mary. That's what the Bible said.
How exactly can Jesus lead us to God? You just ask. Ask Him through a simple prayer. Jesus said: "Ask and you will receive. Knock and the door will be opened to you. Seeks and you will find. I will do whatever you ask in My Name. You may ask Me for anything in My Name and I will do it." Let me tell you something, this prayer can change your life. It has changed mine and countless others around the world. Are you tired of spinning around in circles? Why not let Jesus lead the way?
Dear God,
I am tired of walking around in circles. I am tired of walking into dead ends. I am tired of carving out paths that lead to nowhere. I want to know You. I want to know the reason why You created me. I want to know my purpose in life. Thank you that because of what Jesus did I can gain access to You—the Giver of true life, love and wisdom. Today I make the decision to follow your Son. Lead me, God, to all the wonderful things that You have prepared for me.
In Jesus' name, Amen
Do you desire to know more about God and His plan for  your life?  Please click this

 link

 to have your questions answered. You may also leave me a note at jennifer_caspe@yahoo.com